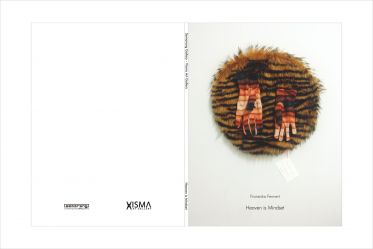 Heaven is mindset with texts by
Anton Larenz, Yogyakarta and Susanne Altmann, Dresden
statement
My work has always been about people … about man thrown
into the world, and his struggle for faith, fellowship and the
spiritual interaction with his environment.
How can we imagine a global community? How can we make
decisions that cross national boundaries for humanistic
reasons, and understand the human sphere as a coherent organ?
In my work, I try to transfer ancient wisdom from past
cultures, such as the Egyptian-Pharaonic, and active cultures
with a rich philosophical treasure, such as the Javanese, into
today's reality of life. The knowledge of the abstract secrets
of the cosmos, the great potential of man, and the hope for
a better world driven by deeper values, merge in my threedimensional
and two-dimensional work. Social and political
issues are approached in a poetic way.
My paintings are inspired by Asian ink painting and Saxon
Neo-expressionism. The drawings spring from deep
contemplations about dreams and references from literature.
The three-dimensional work mixes a variety of textiles,
Merapi-stone, plastic, silicone, hair, accessories, stainless
steel, leaf metals and video.
The foreground technique of stitching resonates with the
representation of social fabric.
2018
Karya saya selalu tentang orang ... tentang manusia yang dilemparkan
ke dunia, dan perjuangannya untuk iman, persekutuan dan
interaksi spiritual dengan lingkungannya.
Bagaimana kita bisa membayangkan komunitas global? Bagaimana cara kita membuatnya keputusan yang melintasi batas-batas nasional untuk alasan humanistik, dan memahami ummat manusia sebagai organ yang koheren?
Dalam karya saya, saya mencoba mentransfer kebijaksanaan kuno dari budaya masa lalu, seperti budaya Mesir-Pharaonic, dan budaya aktif dengan harta filosofis yang kaya, seperti Jawa, ke realitas kehidupan saat ini. Pengetahuan tentang rahasia abstrak dari kosmos, potensi besar manusia, dan harapan untuk
dunia yang lebih baik didorong oleh nilai-nilai yang lebih dalam, bergabung dalam karya-karya tiga dimensi saya maupun dua dimensi. Masalah sosial dan politik didekati dengan cara puitis.
Lukisan saya terinspirasi oleh lukisan tinta Asia (kaligraphi) dan Saxon
Neo-ekspresionisme. Gambar-gambar pensil muncul dari kedalaman
renungan tentang mimpi dan referensi dari literatur.
Karya tiga dimensi mencampur berbagai tekstil, batu Merapi, plastik, silikon, rambut, aksesoris, stainless, baja, daun logam, material alam dan video.
Teknik dominan adalah jahitan bergema dengan representasi tatanan sosial.
2018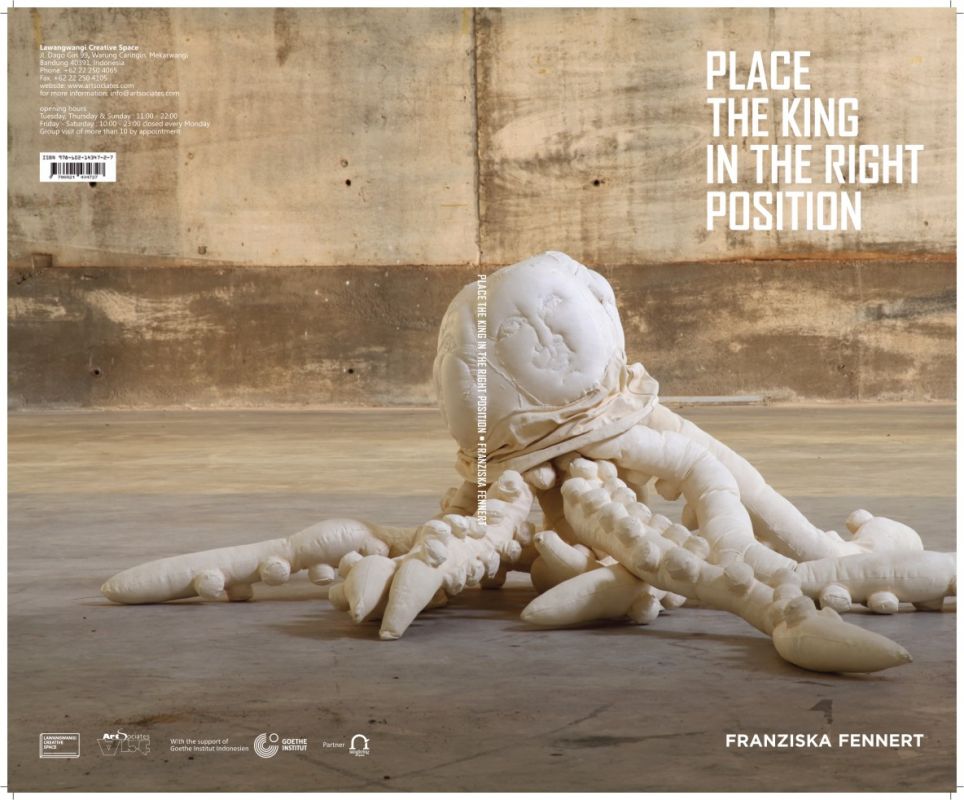 Place the king in the right position with texts by
Asmujo Jono Irianto, Bandung and Anton Larenz, Yogyakarta


For several long seconds one feels as if in transit between the realm of fairy tales and that of daydreams. The personnel in her pictures love to listen to time with closed eyes. Franziska Fennert trusts the knowledge of transformation and the foundations of a chosen homeland. 
Some pictorial signals come from far away, others are nourished from distant regions of the soul. It is the Eastern world that she travels through on the paths of slowness and has absorbed into herself: China, Java, countries in transition. She has cast out her anchor off the islands of hope. The origins of her ideational richness are heaven and earth, what is soft, and the swinging line, out of which emerges a color-saturated universe of its own. Asian ink painting tradition and Saxon Neo-Expressionism overlap. 
Franziska Fennert is right to refuse to let her liberal boundary-crossing be limited by a genre label. 
Christoph Tannert (June 2011)